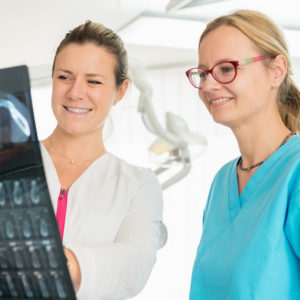 SODC goes above and beyond to help their students prepare for the Board Exam through preparation courses, extra opportunities to gain more practice at the clinic, and tutors are available to enable the student to achieve high academic rates and success.
Our dedicated staff are highly qualified Dentists and Dental Hygienists who have extensive experience and utilize effective strategies to ensure students develop academically, socially, and emotionally during their respective programs.
SODC isn't afraid of change as we strive to keep our curriculum current to include new and up-to-date techniques and skills, all while ensuring the environment is clean, well-organized, and well-disciplined so staff and students alike shall feel safe in taking necessary risks to become self-motivated, lifelong learners.
Students also provide dental hygiene services within a local and extended community during their clinical practice. They are able to practice their Dental Hygiene Process of Care in diverse settings during these outreach visits which greatly benefit the patients in need.
Recently, our students and instructors have visited Alexander Place in Waterdown, CHOICES Association in Hamilton, The Good Shepherd Venture Center, The Ray of Hope in Kitchener, and St. Lawrence Catholic Elementary School in Hamilton.
Our students are known to be well prepared for work within the Dental Community once completion of this program as they have grown as educators, health promoters, change agents, and client advocates.
SODC also understands financial difficulties and commits to ensuring that no students shall be turned away due to these circumstances. SODC offers financial assistance through their spectacular Financial Aid team who work with the students and their families to access monies for tuition through numerous financial organizations, including OSAP. SODC is an OSAP approved and Designated College.